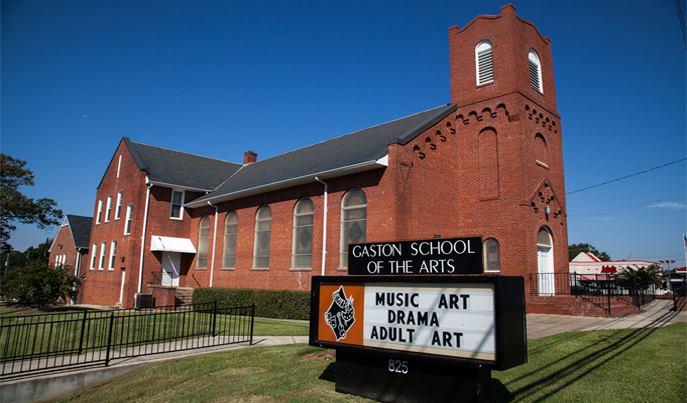 The concept for an after-school community school of the arts was first introduced in Gastonia by the Rev. James M. Cockerham, pastor of New Hope Presbyterian Church, in 1983. Jim had observed the operation of a church-related school of the arts in Decatur, Ala., during his former pastorate in the neighboring city of Cullman, Ala.
Beverly Linberger, organist and choir director at New Hope Presbyterian Church, caught the vision with Jim for a similar school of the arts as a ministry of the church to the New Hope community for the southern part of Gaston County.
As a community effort at that time, the school offered classes in basketry, woodworking, calligraphy, cooking, pottery, plus classes in the areas of music, such as Suzuki violin, art, violin, guitar, piano, voice and dance.
An art class, for example, was offered by Sister Mary Theophane of Sacred Heart College. Most of the teachers had degrees in the area of their expertise. The outreach program was welcomed by the community, hence the name, New Hope Community School of the Arts was chosen. Around 1986, the school applied for nonprofit status.
As interest grew among other members of the congregation, a planning group emerged, along with the appointment of a board of directors, officially initiating New Hope Community School of the Arts. Funding for art and music instruction in the public school system being very limited in those years, a community school of the arts option was welcomed by many families, as well as teachers in the area who needed a network in which to teach.
In only a few years, enrollment outgrew New Hope Presbyterian Church's classroom facilities so that satellite locations were secured for expanded class offerings. The site of the former First Baptist Church of Gastonia also became a central location for the school, and, at about that time, the name was changed to Gaston School of the Arts.
With the purchase of the old Armstrong Memorial Presbyterian Church site, the school moved to that location for what was hoped would be its permanent location…" The Gaston school of the Arts is celebrating over 30 years of service to the community and looks forward to many more. Bringing the Arts to Life!
Source: "Gaston School of the Arts." Gaston Gazette 7 August 2015: Print.